Rift Rivals: Battle of the West
July 05 2018
Ladies and Gentlemen! Bois and Grills! NA LCS fans of all ages! The time has come to (temporarily) set aside our differences, join together as one regional fanbase, and support the NA LCS as they strive to prove once again that NA is, in fact, better than EU! We're breaking down the tournament matchups so get out your merch, get your watch parties planned and ready to go, and proudly hang those Canadian and American flags because ITS RIFT RIVALS TIME!!
Our Allies
Though we're usually ready to take down our NA competition both on and off the rift, this time we're all NA all the way! We will be supported in our quest to win Rift Rivals by our fellow top North American teams 100 Theives and Echo Fox. We're looking forward to battling it out in the name of the NA LCS with these lads!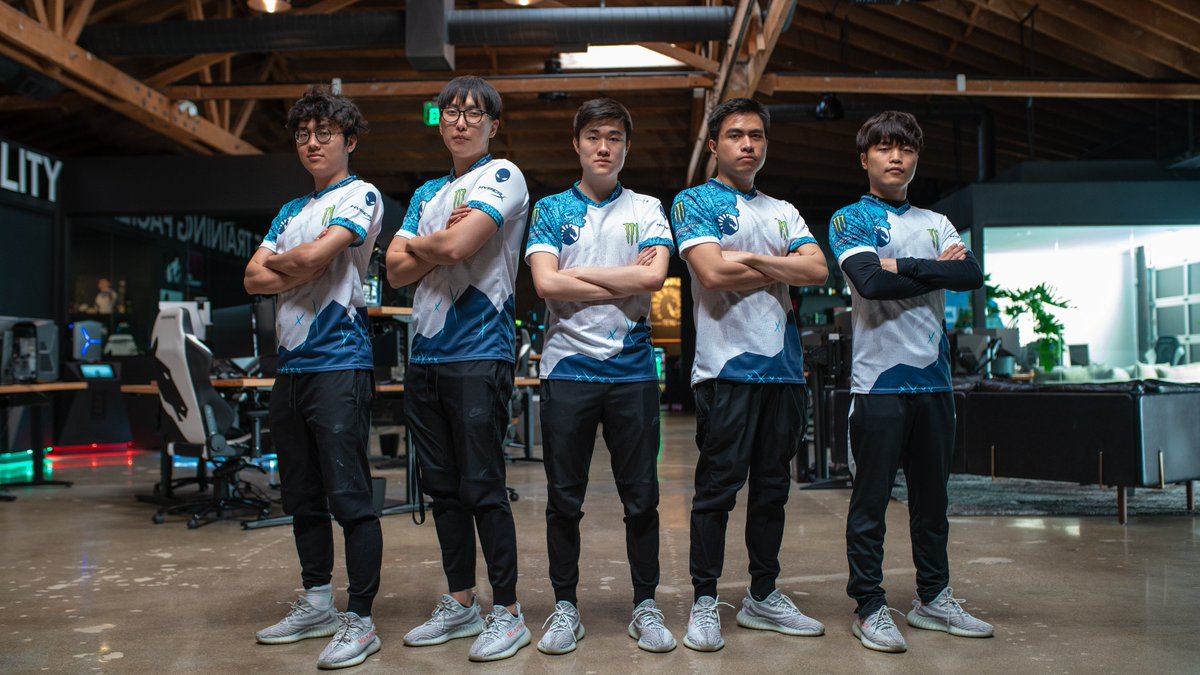 The Enemy
This years' losing EU LCS team is comprised of the G2 Esports, Splyce, and Fnatic squads. Let's look at what these enemy "top Western teams" have to offer.
Splyce has fallen from 3rd place to 6th due to their self-proclaimed "inability to adapt to cheese super fast." This had Splyce tied for last place a few weeks ago. With the current meta deep diving into these so-called "cheese" strategies, NA fans can look for Splyce to be the EU team's weakest link against gold funnel and non-traditional team comps.
G2 Esports looks to be NA's strongest challenger, and with a domestic record of 6-0 are currently tied for first place in their region. Unlike their serpentine comrades, however, G2 has flourished in the current meta domestically. Will Hjarnan pull out his infamous Donger bot? Will Perkz actually show up at an international tournament this time? Or will NA get a second Rift Rivals trophy while simultaneously handing G2 their first series of losses this split? I might be biased, but my money is on #3.
Fnatic. The team that bumped us out of MSI. The team that has fallen from 1st to 3rd place in their region. Though currently holding the same 4-2 record as us, Fnatic has chosen to go into battle without their ADC Rekkles in the starting bot position. A rookie mistake from a team of veterans. This one's about revenge. Come and get it boys, it's nice and cold.
Juicy Matchups
Now let's take a look at some of the spicier matchups our boys in blue will have waiting for them at Rift Rivals!
Impact vs. sOAZ
This is bound to be an interesting matchup. Both pros have worlds experience, both are seasoned veterans, but sOAZ is just coming back from an injury. Can this freshly reappointed sOAZ manage to perform better than our resident World Champion top laner?
Xmithie vs. Broxah
The MSI smite kings will do battle this week. Though we know Xmithie will win any, and every, smite fight you put him in, Fnatic is about to learn who the REAL smite king is.
Pobelter vs. Perkz/Caps
Both Perkz and Caps are world-class mid laners. The problem? Perkz has a history of underperforming internationally. Caps may have earned the title of "baby Faker" this past MSI, but even Faker himself was benched this split. Can the baby demon king and his infamous friend conqueror the 2 million IQ genius in the mid lane? Or is the pen, indeed, mightier?
Doublelift vs. Hjarnan/Bwipo
The bot lane meta is the most unpredictable part of this tournament. Fnatic has subbed their top laner Bwipo in for Rekkles and can be expected to play mages and bruisers as a result. G2, on the other hand, has gone full "cheese" as Odoamne would call it with picks like the Donger himself bot lane. These teams are sure to keep the bot lane guessing but might just feed Doublelift another pentakill to add to his collection in the process.
Olleh vs. Hylissang
Hylissang had the chance to get the better of Olleh during MSI. Not this time. This time Olleh is back, better than ever, and ready to prove that Olleh and Doublelift are the best bot lane in the West. Redemption is the theme of this matchup. And we just know Olleh will be the victor.
The first game of the NA vs EU Rift Rivals series starts this Thursday, July 5th at 3:30pm EDT/12:30pm PDT. Don't forget to tweet out your support using the hashtags #NAWIN, #NA>EU, and the team specific win hashtags like #TLWIN and #LetsGoLiquid while you are watching the action unfold this week. Also remember to equip your pro NA LCS Rift Rivals summoner icon in the LoL client for the entirety of Rift Rivals and tune in to cheer on the lads as they prove once again that #NA>EU!
Dota 2
Race to the Finish Line: Earth Spirit vs Puck
There were a lot of wild plays at the Chongqing Major, but none so wacky as GH's Earth Spirit embarking on The Great Escape during Liquid's match against Vici Gaming. GH forced Vici to keep chasing him all the way across the map and while Ori eventually caught him, it made us wonder, "Who would win in a race between Puck and Earth Spirit?" We answer that question with maths.
Smash
The Ultimate Puff Tier List
If Puff is the best character in Smash, then the characters most like Puff are the best in Smash. But how do we figure out a character's Puffhood? We have you covered as we take a needlessly mathematical approach in creating The Ultimate Puff Tier List.